See?  Sales funnel (s) make friends!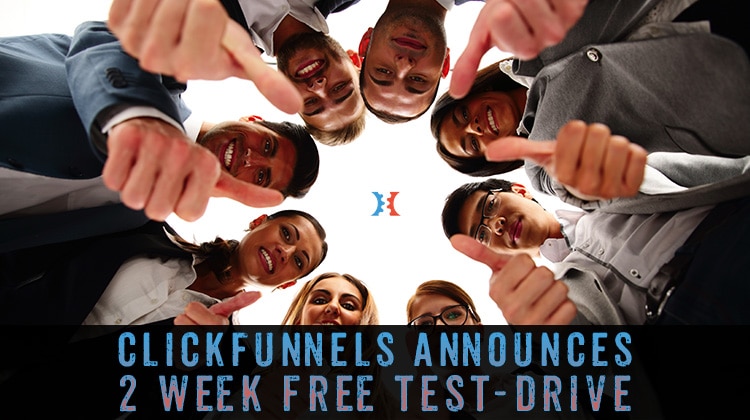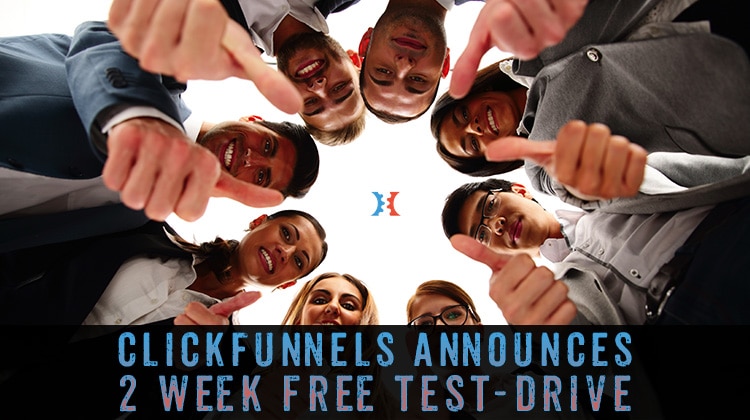 Hey everyone (especially people wanting to improve their business with a successful sales funnel!),
super informal post today, but really fun and really potentially useful to you:
The good folks at Clickfunnels are offering 2-week free trial "test-drives" of their online sales (CRM) software (as of this article publish date May 4 2016).
We've been testing it out recently and really enjoying it.
So far, it has proven a great alternative to Infusionsoft or Salesforce sales funnel tools, and it has been remarkably easy for our team to set up various solutions including:
landing pages (way more flexible/customizeable than many of the alternative options out there)
opt-in pages
entry page pops
exit page pops
email lists
email broadcasts
email "drip" and autoresponder campaigns
elaborate logic-based email follow-up campaigns
simple/basic membership sites (often all we really need)
sales pages, including pages with upsells, OTOs, countdown timers, downsells, etc.
Given its flexibility, we'd be hard-pressed at this point to think of a marketing or sales funnel that we couldn't create with it.
And given its extensibility, this tool is feature-packed!  We could run affiliate programs with it if we wanted to, we could integrate it with Zapier and API's if we wanted to, it seems right at home both as a WordPress plug-in (to make it easy to integrate right into WordPress) or working with systems like Cloudflare for custom domains/dns settings, and its overall integration list is impressive, integrating with most of the main email service providers, and some bonuses like the ability to integrate with sms ("texting")  and webinar service providers.
Is it absolutely the "holy grail?"  For some businesses or individuals, quite possibly.  Our service requests (for the rare things we couldn't find answers to in their help areas) were answered swiftly, and we loved that in many cases we were able to catch them real-time through their built-in support chat.  We found service excellent.
Do we still love some of the alternative tools?  Yes, it is a fantastic time to be doing online sales funnels as there are a great number of quality options.   Our team values all the power this one offers, and we're willing to do the work to harness all that power.  The basic features were easy to implement, and the really advanced features required consulting a help video or page here or there… but we found it worth it.
The key is to find the sales funnel software that fits you, your style, and your needs.
We don't know how long Clickfunnels will continue to offer their free 2-week trials, so if you're curious, it is suggested you take advantage of it soon.   (We'll update this page if we hear of them stopping the offer.)
One note:  they do ask for your credit card to activate the free trial.  For us, they didn't charge our card until we decided to keep using it (i.e. becoming a member).  Their page says "cancel anytime" and in our experience, they honor that well.  We tested out another of their offerings, essentially a membership course on "how" to do sales funnels, decided we didn't want to continue past the trial (one of our staff is quite advanced in that area).  We emailed in a request to cancel a few days before the trial ended, and within 24-hours we received confirmation that we were cancelled and our card wouldn't be charged.   Easy and smooth!
---
Disclosure:  we love Clickfunnels so much that we are active members/users and affiliates.  This means: if you use our links and purchase, we may receive a commission.   This doesn't affect you in any way, but allows us to maintain this website (where we hope to continue helping you further your successes!).    Frankly, we'd recommend Clickfunnels regardless as we think it is tool that may benefit a lot of people.